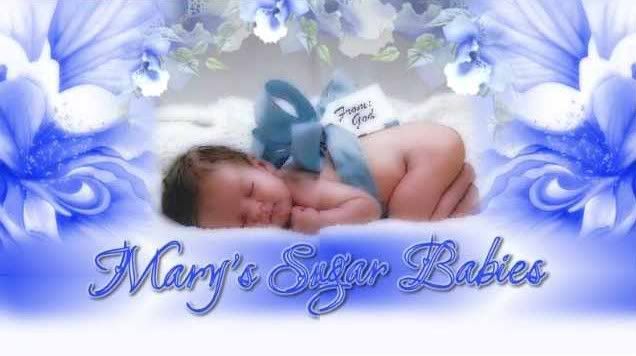 A Few Customer Comments on Babies they have Adopted
These are actual comments from some of my recent customers .. I have only listed a few current comments and have removed the buyer's names to maintain their privacy.
Luca End time: Sep-29-09

Dear marysdolls,
Hi Mary, baby arrived today and she was worth the wait ,she is fantastic my 3 sons think i have lost the plot but i donít care. many thanks again will leave excellent feedback if you would be so kind as to do the same regards. JC (in UK)
Shyann Wednesday, September 30, 2009 7:17 PM From: JM Dear Mary, She has arrived, Shyann, and is gorgeous. You have done a lovely job of her, and she is sitting here staring at me, willing me to write nice things about her. Shyann is such a lovely sculpt and you really have excelled. I think her mate Sascha has the same body, and they can both sit up and take notice, instead of toppling over, so both babies are quite happy with themselves, comparing clothes and dummies, and talking about the other babies, (typical girl, catty little so and so`s.) Anyway, I am very happy. Keep on with the good work, hugs, J and the two girls.(in South Australia)
.
J also adopted Saskia ~ Beautiful little baby, gorgeous clothes, really brilliantly reborn, thank you AA++ (JM in South Australia)
Q.N.R. Tue 9/29/09 6:44 AM ~ Morgan arrived Monday afternoon and she is just gorgeous. Of course I like her, I LOVE her! She's adorable and looks so real. My mother says she has my nose. The funny thing is, she's right! As always, your work is remarkable! Out of all the dolls in my collection, yours are top quality. I'm looking forward to adding more to my collection whenever possible. Thank you again. Blessings.

&nbsp
Wonderful doll! Thanks for Xtra outfit. Will watch for more. ( DG in Yakima, WA)
Shyann muy bonita! (GCG in Barcelona, Spain)
Jul-20-09 12:34 WHITNEY's First TuTu Can't say enough good things, Fast shipment, adorable baby, super EBayer 11+ Hi there: Just had to let you know how much my friend loves her girl baby (Whitney). She called me as soon as she received her. You sent a beautiful layette. Thanks again for the attention you gave to this order, you offer a great price, quality and great service. Please keep in touch with me when you list other dolls. Monday, July 20, 2009 4:16 PM Hi Mary! I know that my friend has already sent you a good feedback and let you know we received Gabbi this morning...but I also wanted to write and say Thank You! So sorry about the delay in writing but had a computer problem and hubby wasn't home to help fix it. but he just did...so this is why I am writing so late! First off, let me start saying that she is Beautiful!! And also very quick on getting them sent out and very well packaged! Just fantastic....and I love her to pierces!! She is soooooooooooo adorable and you did a fantastic job on her!! Don't know if she told you or not but I have two grown sons and we now have to little grandson (which we love to bits) but not a little girl yet. So I am so looking forward to shopping for her and dressing her!! Also wanted say to say Thank You for the surprise outfits and the surprise extra's!!! That was soooooooooooo sweet of you.... you really do go out of your way to make getting her very special! I hope you can somehow add this to your feedbacks. or some where on your page for people to see! Your babies are really special and I am very happy and lucky to have gotten one of them!! Gabbi's.....very happy Mom....P
Mar-02-09 Kaya - Arrived about a week later! Love her. She's so beautiful! Thank you A+ (CB in Australia)
Apr-03-09 Marije - I loved!!!! She's wonderful!!! Thanks. (EC in Sao Paulo, Brazil) ~Marje has won a "Baby of the Month" Award.
Award Winning Audrey (in France) has won 2 doll artists awards.
Apr-09-09 NooNoo - A beautiful ray of sunshine! Very sweet, well done boy, thank you! (ML in Cedar Bluff, VA)
Hello Mary, Just wanted you to know that all three of my dolls arrived this afternoon, my how precious!!!! Out of all the creations I've ever bought, I can honestly say yours are the most realistic!! I can't get over how real their skin looks!! You have really outdone yourself!!! You have even included the most precious accessories, thank you. Q. N.R. (January 22, 2009Silja, Paisley and Byron (Luna) Hello again Mary, I have a question... is it possible to create another boy doll similar to Byron? I only own 2 boy dolls because I have never ever found one so realistic and even though the two I do have are cute, they are nothing like Byron!! I'm going to have a hard time parting with him. I can't get over how real he looks, veins and all!! If you can create one similar I would be grateful. I can't get over your dolls, they are wonderful and affordable. I once saw a doll for $1,100.00 and she didn't even come close to yours. As much as I love my dolls, I would never pay that much anyhow. Q.N.R. Also Adopted a custom made Silja:
I take pride in all the work I do. I only use the best quality materials and supplies to make all of my dolls. I do not cut corners in time or expense. It normally takes 2-4 weeks to finish a reborn doll. I will not offer any doll for sale until I am completely satisfied that I have done my best to create a quality One-of-a Kind Treasure for you that will be loved and treasured for many years.
Again, thank you all and feel free to email me any time with questions.
Backgrounds courtesy of Waterlily graphics and Logo by Kay's Auction Designs
December 23, 2011