p align="center">


Welcome to Mary's Sugar Babies Nursery,
aka Mary's Dolls-N-Things

Click on Photo below to View
information about available babies.
**Special for a limited time** AA Babies are marked down to $175-$185 plus Shipping**
Click on the navigation links on the left to take you where you want to go.
You can click here to see available Reborn Girls
Here you will find quality One-of-A-Kind Reborn/Newborn baby dolls as well as OOAK Porcelain dolls all completely handcrafted by me. I take pride in my work and will not list a doll here until I am completely confident that she/he has met my high standards of craftsmanship. I only use high quality materials for my babies and I do not cut corners, nor do I rush to complete any doll. You can rest assured that you will be receiving a baby that you can cherish for years to come.
Please remember that all of my dolls are Collectible dolls and they are no longer play dolls. These dolls are not recommended for children under the age of 12. If you decide to give any of my dolls as a gift under that age, I will not be responsible for any damages that may occur.
Make sure you take a look at the Important Information section of my site for helpful information on the care of your new Reborn baby doll.
If you have any questions, please do not hesitate to contact me. My email is mary@marysdolls.com .
CLICK HERE to see the current selection of Reborn baby girl dolls available to you.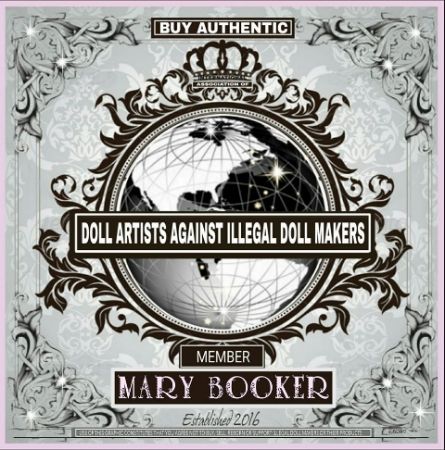 All dolls and items on this site can be purchased with your credit card through PayPal
Note to International Buyers: Mary's Dolls will not be responsible for border or custom fees outside of the USA. It is the buyer's responsibility to know the limitations, rules and fees of their own country.
Mary Booker - 9/11/2019